I have been using the YOAST SEO plugin since 2016; it is the only plugin I know about properly. But in 2020, during the pandemic, I have heard multiple people in different groups discussing Rank Math and how it is a YOAST SEO killer. I didn't pay much attention because I stayed away from hype and needed a stable solution to manage the SEO tasks. It is not something that can be experimented with.
In 2022, a friend of mine joined the Rank Math SEO team as a customer service executive, and that event made me think- let's give it a spin and see how it is. It had a different design approach compared to the usual YOAST SEO design. I liked the Gutenberg integration. But I couldn't find anything very interesting to start using right away.
This year, when I was working with a new site, I decided to see how I could progress with Rank Math. I faced difficulties with Google Search Console crawling and delivering my pages in search results. I have consulted an ex-colleague cum friend, who said that I should use the Rank Math plugin because it has an instant indexing feature that notifies the search engines every time a post is published and updated. So, this might help me to speed up working with Google Search. He also mentioned that Rank Math has a feature where you can connect it with the Google Cloud Platform to make the process even faster.
That's how I started liking the Rank Math SEO plugin. But now I wonder what else is available in the vast ocean of WordPress SEO and marketing plugins. Am I missing out on other available solutions? What if there is something even better?
So, I decided to try the other top SEO plugin- All in One SEO!
Let's take a look at some of the basic data. These are some of the key points I usually analyze before installing any plugin. I am sure you all do too!
| | | |
| --- | --- | --- |
| Feature | Rank Math | AIO SEO |
| Active Installs | 1M+ | 3M+ |
| 5 star reviews | 5280 | 2851 |
| Average review score | 4.9 | 4.7 |
| Update frequency | Twice a month | Twice a month |
| Available languages | 25 | 57 |
| File Size | 9.7 MB | 17.7 MB |
| Average Change* | 153.63KB | 2366.73KB |
* The average change information is taken from wphive.com.
They have an automated comparison system where you can test any plugin that is available on WordPress.org.
Common Features
In both, XML, Schema, content analysis, and connecting with search engine tools are the same. However, the Content AI feature in Rank Math is way better than TruSEO.
Both of the plugins have 404 detectors and 301 redirect features. They both also have a notable Gutenberg feature- a table of content that improves your chances further with the FAQ block.
Common Features of AIO SEO and Rank Math At a Glance-
Content SEO Analysis
Rich Snippets
Local SEO
Video SEO
XML Sitemaps
Social Media Integration
WooCommerce SEO
SEO Audit
Link Assistant
301 Redirect
404 Monitor
Robots.txt Editor
Breadcrumbs
IndexNow
Image SEO
Custom User Roles
I have taken all this information from the WordPress.org landing pages of the respective plugins and their websites. Please note that the list above includes both free and Pro features.
First Impression of All in One SEO plugin
Compared to the Rank Math or YOAST SEO plugin, the design is quite nice. They have spent a good amount of time thinking about how to make the user experience better. So, I would give them 4 stars on user experience.
If you're wondering why not 5 stars, that's because of their salesy approach and always trying to push people to buy the Pro version. I have 10 years of WordPress theme and plugin marketing, and I know very well how sales promotions work, but how they are always nagging is annoying.
I consider the following features a must for an SEO plugin-
404 monitoring
301 redirection
SEO for Taxonomies
Connecting with Google Analytics
Connecting with Google Search Console
Sadly, All in One SEO only offers these features in their Pro version. But Rank Math offers all these in their free version. I was amazed that AIO SEO mentioned no banner ads to encourage people to buy the pro version. That shows that they are annoying people with ads intentionally!
The plugin shows many menu items in the admin dashboard, but most of them are just promotional pages and show you the link to upgrade to the pro version.
First Impression of Rank Math SEO Plugin
When I moved from the YOAST SEO plugin for the first time, the design of Rank Math did not look that appealing to me. But their subtle gray and blue colors did not annoy me. I was comfortable navigating through the onboarding system and configuration screens.
At first, the options seemed very limited on the onboarding system, and selecting the category from the huge drop-down list seemed like a chore! But later, I realized that they were doing a lot of things in the background. That is why they are asking for lesser things.
Another downside of the Rank Math plugin is that they use very little space, and the font sizes seem smaller. I would appreciate it more if they could utilize the entire screen and use a bit bigger font. The configurations of an SEO plugin are definitely going to feel like the control panel of a spaceship. Still, the user experience can be improved with a bit more whitespace so that the users can focus on the option they are working on.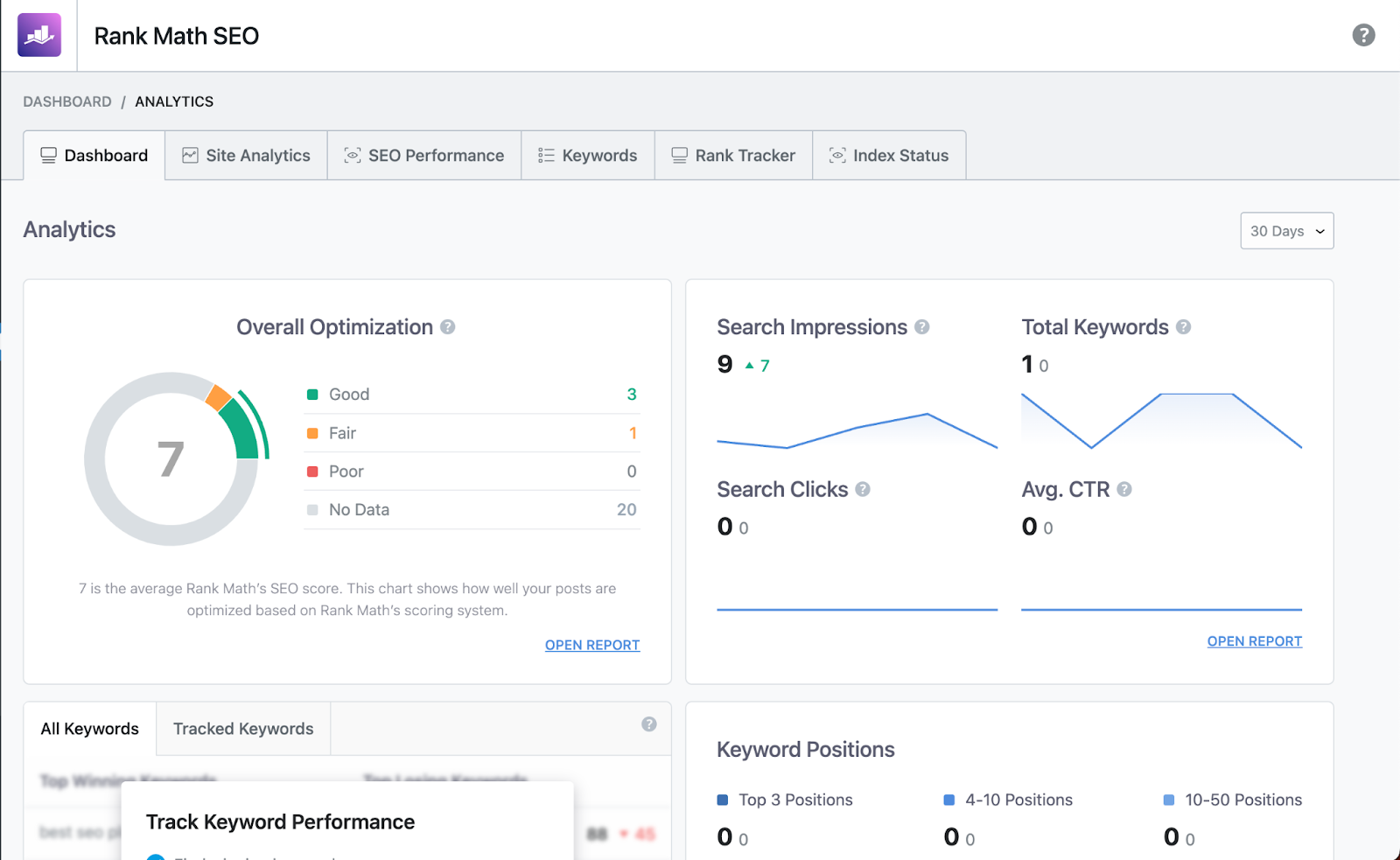 Some of the impressive features in the free version of Rank Math are-
404 Monitor
Advanced Custom Fields integration
AMP integration
WooCommerce integration
Google Analytics integration
Google Search Console integration
bbPress and BuddyPress integration
5 free credits for Content AI
Image SEO
Instant Indexing
Link Counter
Local SEO
301 and 302 redirection
Schema (Structured Data) integration
User Role Manager
SEO Analyzer
Google Web Stories integration
Their Pro version has some great features like keyword tracking, rank tracking, indexing tracking, etc. But they are not forcing you to upgrade in any way. They are offering their proprietary technology Content AI credits for free to try.
Which One Offers More Value for Money?
If you look at the feature list above, you will see that the free version of Rank Math is way ahead of All in one SEO plugin. The image SEO, video SEO, redirection, 404 monitor, and many more features are available in the paid version of AIO SEO. Even you have to pay higher to get some features. But rank math has one price and includes all features. Even their starter price includes unlimited sites. You will get one login access to use for all of the sites. The higher tiers are only for serious agencies who are going to use the plugin for client sites and need a high amount of keyword tracking.
The Pro plugin includes extra Content AI credits. But if you need only Content AI credits, you can purchase that separately, and upgrading to the Pro plan is not required.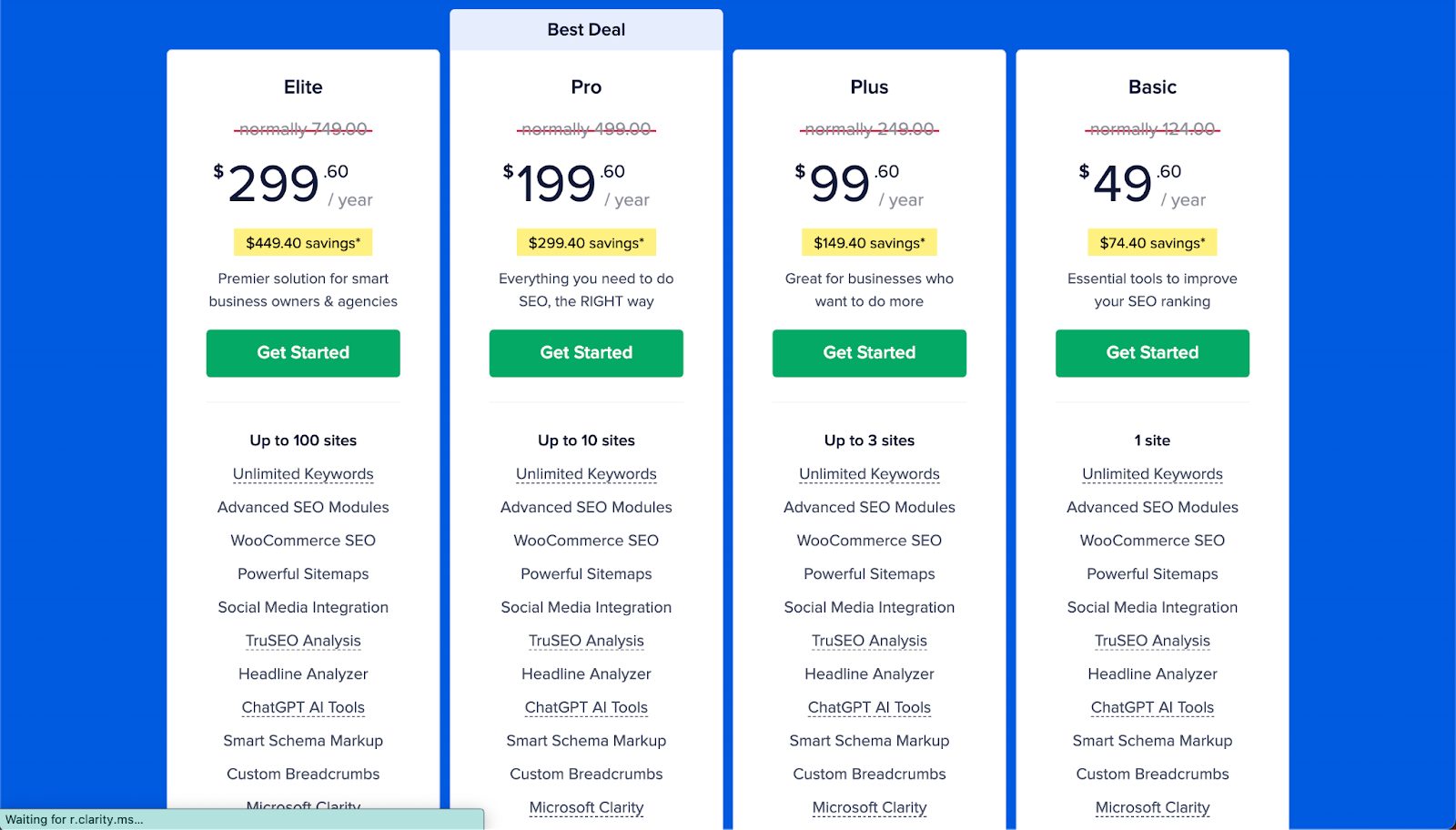 All in one has different tiers for different amounts of sites. If you need something simple like 404 monitoring, you will have to buy the Pro plan, which costs 4 times more than Rank Math even after being on sale!
More importantly, their highest plan is limited to 100 sites only. If you're an agency owner or a freelancer who works with affiliates, you know that a 100-site license is nothing these days.
My Recommendation
Get the Rank Math SEO plugin, connect with Google Analytics, Search Console, and Rank Math platform, and buy some Content AI credits as you need. It will not cause you any trouble, and you will be able to build quality content in no time.
Bonus, Rank Math YouTube Channel has some great content on SEO. They even make short videos of their stories filled with humor and knowledge. I have personally turned on notifications for their YouTube channel.